The Statue of Peace in Moabit, My Dear
English translation from German
The Statue of Peace in Moabit, My Dear
I'm a Korean woman and have been living in Berlin for several years. I encounter the city in a thousand different ways. It has moved me and surprised me, but also made me sad, though for the most part it gives me an incredibly beautiful feeling. It's really exciting to meet people of all nationalities (194 countries are represented here), skin colors, languages, and cultures. This dynamic city of 3.65 million people makes me feel special every day.
Living in a metropolis, I feel like a world citizen, but sometimes also like an ordinary woman from a small Asian country. Rarely do I feel strange and lonely. Most of the time I'm happy to live with so many different people.
I'm glad to have this opportunity to talk about my special place.
One day in September 2020, in a district called Moabit, not far from my apartment in Charlottenburg, a statue of a young girl was erected. If I remember correctly, what happened was that the district office of Mitte, which Moabit is assigned to, had granted permission to erect this statue, but then they tried to revoke the permission in response to pressure from the Government of Japan, which sparked heated protests by the citizens.
The Statue of Peace was created by an artist duo to criticize the Japanese government. This criticism pointed to the fact that during World War II, girls and women from 14 countries, including Korea, other Asian countries, and the Netherlands, were forcibly abducted by the Japanese military to be used as "comfort women," i.e. in order to act out their sexual desires on them.
In 1991, Kim Hak-sun, a survivor of the "comfort women" system, broke the prevailing silence in her society about these incidents and revealed her painful past. After telling her story and demanding an official apology from the Japanese government, 242 surviving "comfort women" from South Korea as well as several thousand others from the Asia-Pacific region and women around the world banded together to form a movement.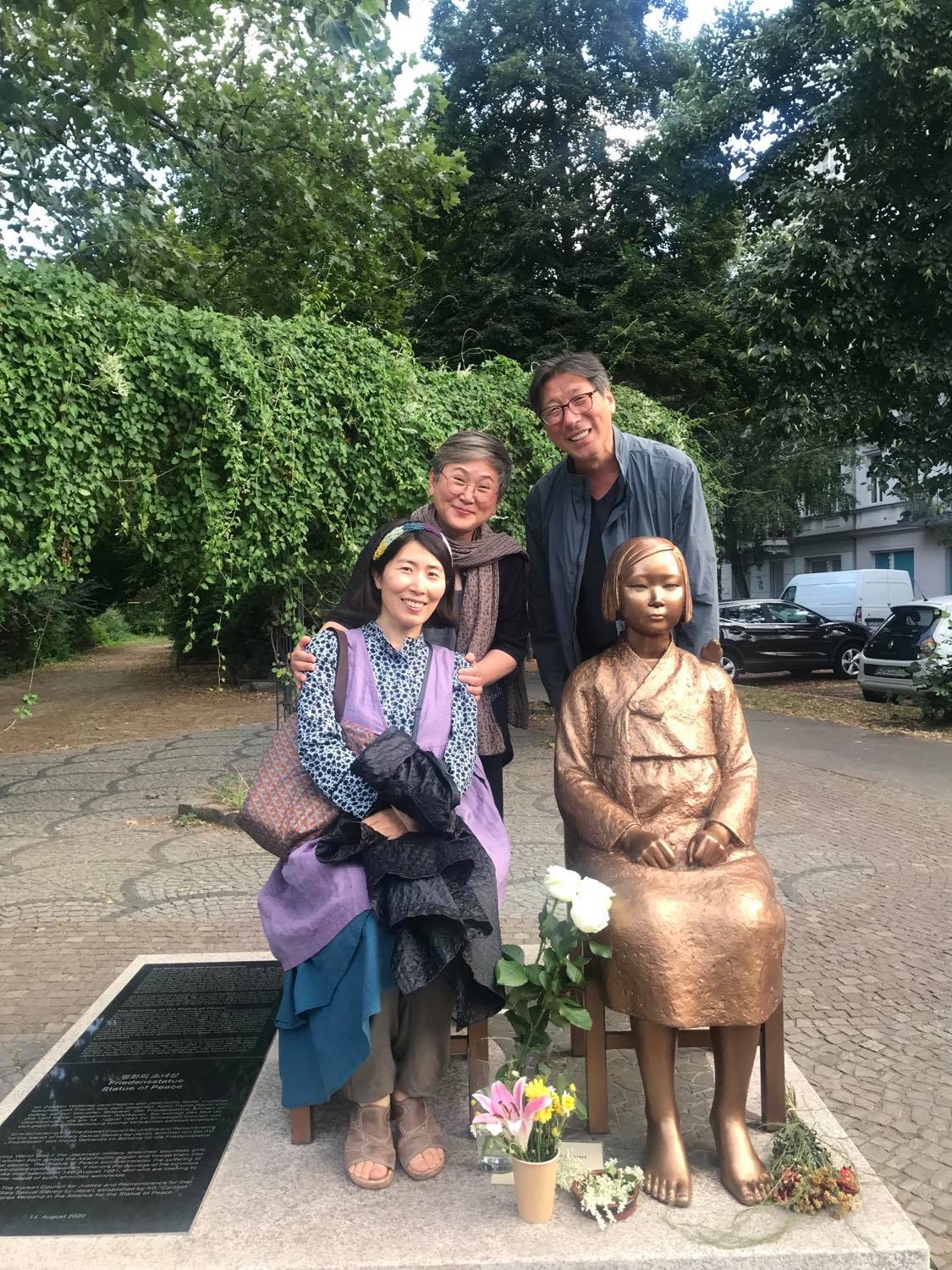 Japan had started a war of aggression, but its government only apologized to the survivors on the condition that they would never speak of their experiences as "comfort women" again. This is completely different from Germany, where people constantly apologize for starting a war and being responsible for injuring and killing so many people.
In South Korea, protests have been held in front of the Japanese embassy every Wednesday since 1992 in order to demand a proper apology and official compensation. At the 1000th protest, an artist duo installed a peace statue to share the pain of the "comfort women." The two artists wanted the statue of a girl embodying the pain of "comfort women" to be known all over the world. In Germany, peace statues were already installed in two cities and remain standing to this day, despite strong opposition from the Japanese government. Although the Japanese government demanded that the peace statue erected in Berlin be removed, it was eventually saved by German citizens. A group of Japanese women working in Berlin also helped to save the statue. Japanese women have been working together with Korean and German women for a long time to restore the honor of the comfort women.
In July 2021, the 1500th Wednesday demonstration took place. These demonstrations were held not only in Korea but also in front of the Statue of Peace in Berlin. Many German women's organizations and students came together for this. Not long ago, there was a workshop about the "comfort women" held in the Korea Verband's museum in Moabit, roughly 200m away from the Statue of Peace. The students were surprised and outraged when they heard how the war had made women miserable. I vowed never to let such things happen again. And it was decided that the victims need an apology and compensation—from teenagers. They know what justice is and that the lies need to be fought. I'm glad I live with people I can share my thoughts with.
Currently, there are only 13 comfort women living in South Korea.
They, too, will soon go to heaven. However, they will be remembered by the youth who learned about war and about peace through the Peace Statue. The youth will be our teachers.
Every time I pass the Statue of Peace in Moabit, I remember how important it is for humanity to work together for peace. Peace is not something silent; there will only be peace when we actively speak up for it. That's what the girl shaped statue tells me.