About the Project
Mapping Memory – Crossing Borders is an interdisciplinary project that traces Asian-diasporic life experiences regarding Berlin's urban space through artistic works. Thanks to a digital archive of memories, a diverse range of individual voices becomes accessible to a broad public, while at the same time encouraging active (re)exploration of the city. Mapping Memory is a medium for collective remembrance and celebration by and for Asian-Diasporic people.
Mapping Memory is a digital platform that contextualises individual stories in a cultural and historical context and marks relevant places for heterogeneous communities and individuals. The vision of Mapping Memory is to make migrant experiences visible and empower people affected by discrimination.
Featuring contributions from the community collected through an open call, we invite people to share their experiences, dreams, memories – their perceptions of Berlin. Together we create a decolonial culture of remembrance and discovery that stretches from the Dong Xuan Center Lichtenberg, the pagodas in Spandau or Marzahn, Kantstraße, Thai Park and far beyond.
On October 30, 2021, the website launch of Mapping Memory – Crossing Borders will take place. The live event is a multi-layered place of encounter and exchange. With the completion of the project, the digital archive will be available as a website. During the evening there will be live performances by
Avrina Prabala-Joslin
Pao Paniq
ANOTHER NGUYEN
DJ Golsche sin Gübbana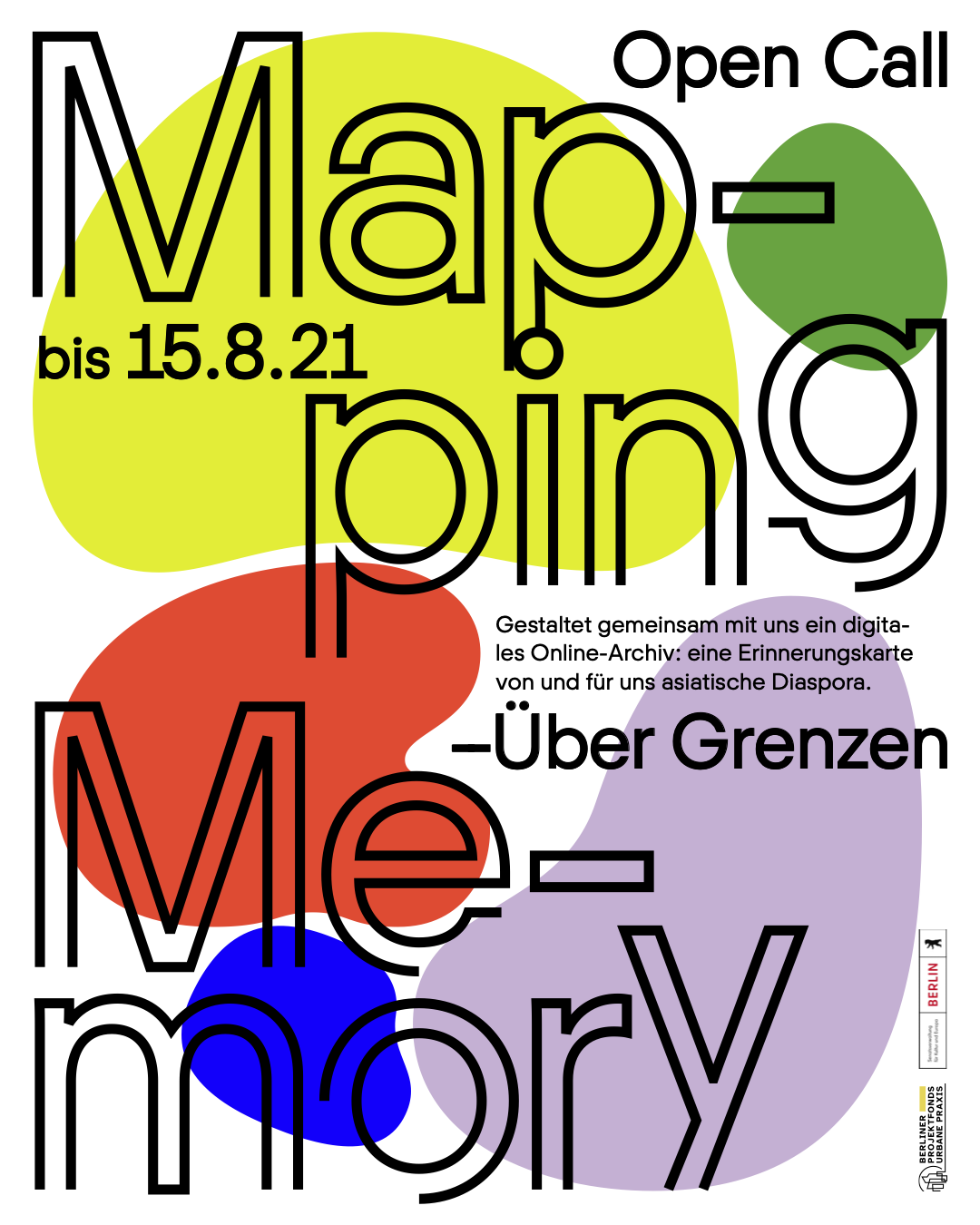 Open Call
Mapping Memory is a community-based, interdisciplinary project. It encourages and establishes collective remembering and empowerment within the Asian diaspora in Berlin and Germany. Safer spaces for those affected are few and often difficult to find: Asian diasporic experiences and perspectives in Berlin are barely represented. Mapping Memory fills these gaps with stories from the diaspora and shows its importance for our society. We invite you to contribute to a digital memory map of Berlin and to redefine our perspective of the city.
Do you have a favourite spot or specific places in and around Berlin that you love to spend time at or remember? Whether through texts, photographs, sound or video recordings, recipes, collages – we encourage people from the Asian diaspora to creatively reflect on your city and your memories. Together we can create a decolonial culture of memory that reaches from the Dong Xuan Center Lichtenberg, the pagodas in Spandau and Marzahn, Kantstraße, Thai Park and beyond.
This Open Call is specifically addressed to people of the Asian Diaspora in Germany and will be compensated with an artistic fee of 350€. Please send your contributions to kollektiv at mappingmemory.de by August 15th, 2021.